Getting married in the Dominican Republic
Hot List
It will make your special day the most memorable and romantic occasion imaginable
Picture the ultimate romantic back drop:  star-encrusted night skies, furiously colorful sunsets, golden rays of sunshine streaming over elegant palms making their shadows dance across the snowy white sand which stretches to the sapphire aquamarine ocean. Love and passion characterize the tropical island paradise of the Dominican Republic. What better setting could there be to declare your true love and to make the vow that you will forever belong to your soul mate? Yes, the romantic atmosphere and natural beauty of the Dominican Republic entice many couples to take their vows on this jewel of an island.
Many also choose the Dominican Republic for their destination wedding not only for the intense natural beauty that it offers but also because it's affordable. Even with a small investment, your dream wedding can easily become a reality. Whether you fantasize about a lavish extravagant night in a city dripping with old world charm or an intimate beach wedding attended by close family and friends, the Dominican Republic has an infinite list of locations that will be sure to exceed any couples wishes.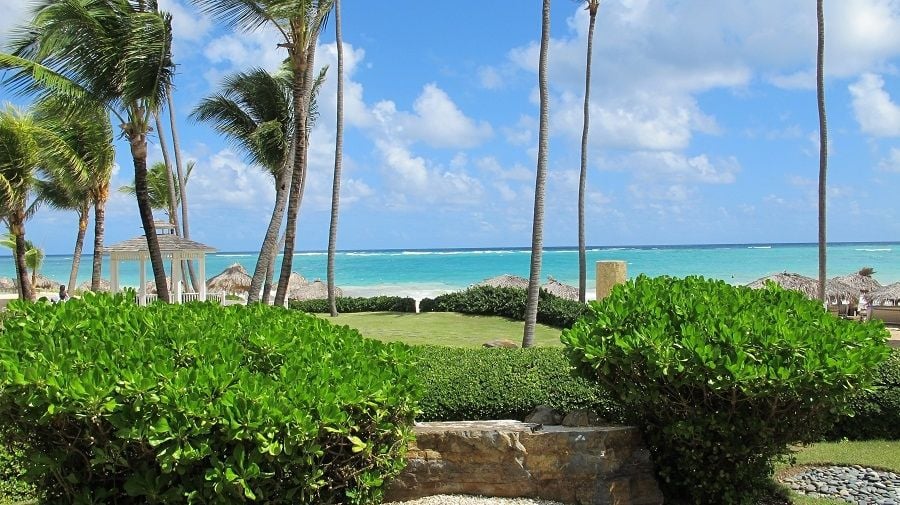 A common worry for couples planning a destination wedding is guest attendance. The island offers another bonus to the engaged lovers in that the prices of flights to the Dominican Republic are very reasonable. Some airlines offer special prices during certain times of the year as well as discounts for groups traveling together.  The Dominican Republic is endowed with 8 international airports making all corners of this dazzling island easy to access. Many resorts offer shuttle service to and from the airport which means your arriving guests will be whisked, hassle-free, to their final destination. 
As is the case with getting married anywhere, you will want to look into the legal issues several months before hand. It's a good idea to check with nearest Dominican consulate to make sure you have all the required documents.  Some documents may need to be translated into Spanish and authenticated before departing, so make sure you give yourself enough time to address these matters.
Weddings are always almost inevitably accompanied by some measure of stress, and some may think that planning a marriage in a foreign country would add to that stress. But that not need be the case. In order to minimize the anxieties of wedding planning it is wise to hire a qualified Dominican wedding consultant or wedding coordinator/planner to take care of every detail. You may also choose to investigate the many wedding packages offered by a number of dazzling resorts. Wedding packages and rates differ from one resort to another so do you research and mark your preferences. You can expect your resort wedding package to provide a wedding planner and experienced professional staff to put together your big day.  They also can provide decorations, reception dinner, drinks, photos, flowers, wedding cake and even provide witnesses.
One such resort is the Paradisius Punta Cana Resort an all inclusive remote oasis on Playa Bavaro.  With its deliciously breathtaking white sand beach, this locale is certain to inspire as it blends modern with wild, skillfully complimenting the natural beauty the island with luxury and comfort. Paradisius Punta Cana Resort has several wedding packages. Their various themes make it easy to choose a wedding that matches your personality as a couple. Packages include a romance planner who will make sure all your needs are met and insure all documentation is in order. They also include a romantic ceremony, natural flowers for the betrothed, cocktail party, dinner as well as extra amenities for the bride and groom.  Paradisius Punta Cana Resort also offers honeymoon packages.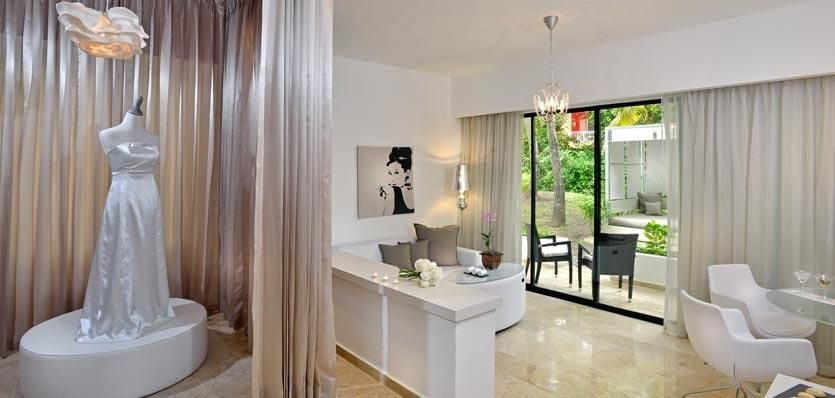 Accommodations for weddings in the Dominican Republic are important not only for the couple but also for the guests. The thrills and delights your guests will experience in the Dominican Republic will have them talking about your wedding with fondness for years to come. If you choose to have your wedding at a resort your choice of accommodations is obvious. Your guests will have plenty to enjoy after the wedding; be it enjoying the many amenities your choice resort offers such as golfing, theater, tasting the delights in the restaurants and bars, getting pampered at the spa, or exploring the many other amusements Dominican Republic has to offer. Resorts often offer discounts to large groups of wedding guests.
So, come to the Dominican Republic to say "I do" both to the love of your life and to the enchantment of the island.   It will make your special day the most memorable and romantic occasion imaginable.
Main picture: santodomingovacationdelite.com