Humpback Whale Watching in the Dominican Republic
Adventure
Whale watching is definitely an unforgettable joy for nature lovers both young and old...
Our Top Experiences and Tours in Dominican Republic:
If youʻre booking your trip to Dominican Republic last minute, we have you covered. Below are some of the top tours and experiences!

Hear the song of the humpback whale; watch a mother whale care for her young calf; experience the awe of watching the humpback whales breach and roll in the pristine waters of Samaná Bay, on the eastern coast of the Dominican Republic.

Nestled in the heart of the Samaná bay lies the "National Marine Mammal Sanctuary of the Dominican Republic", a safe haven designed to protect the humpback whales that come annually to the area to breed and calve. This is the prime focal point of Caribbean whale watchers who come for the migration that lasts from January 15th to March 25th of each year. From this special bay, you can find the most spectacular whale watching for your 'once in a lifetime' experience.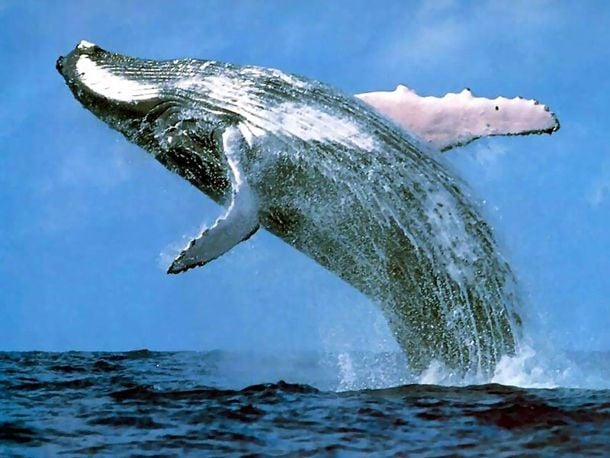 What to expect
Since this is a whale watching experience, you can expect to be spending anywhere from 2- 4 hours out on the beautiful water of the Caribbean Sea. Whale season is often rainy, and the water can get a bit choppy, so if you have a tendency to experience queasiness or motion sickness, be sure to come prepared. Choose a larger boat for your excursion and perhaps bring some anti-seasickness medication if you think it necessary. As far as clothing goes, you may want to bring a sweater or jacket, especially if the sky is overcast. In any case, even on a cloudy day, be sure to bring sun protection since not all boats provide a protective roof.
It is approximately a 15 minute boat ride to the sanctuary where you will probably see other tour groups searching for the whales. Remember that these are wild and unpredictable animals, and as with any wildlife-sighting excursion you never know exactly when or where they will be found. With approximately 300 whales at a time in the bay you will have  a 99% chance of seeing these amazing animals. However, in case you don't get to see any whales during your time on the water, some tour excursions offer "rain checks" so that you can have another trip a different day. What can be guaranteed, however, is that each trip will be a different experience. At times you will find a mother and her calf, and during other excursions you will see amazing courtship displays put on by the males. Having a knowledgeable tour guide on board to explain what you are seeing always makes the trip more enjoyable.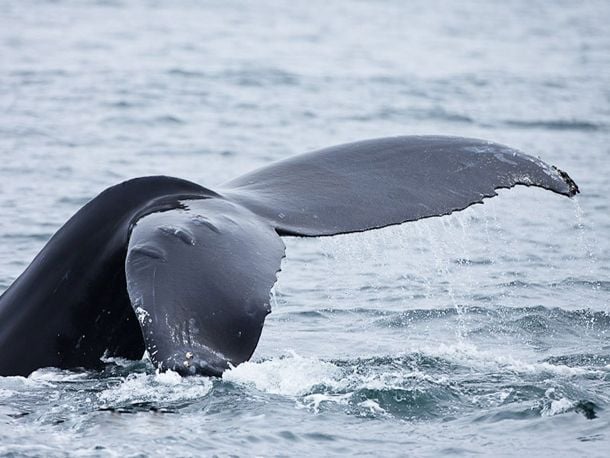 There are certain regulations for whale watching that must be adhered to. Unless the whale approaches the boat, watchers must remain at least 80 meters from whales with calves and 50 meters from adult whales. Watchers may only stay with the whales for 30 minutes at a time and only a certain amount of vessels may remain with the whales at any given time.  These rules protect the whales and help them to feel comfortable, thus guaranteeing their future return to Samaná Bay each year.
Once you find your way to the colourful town Santa Barbara de Samaná, there are several ways to experience the whales. By simply walking down the seaside promenade you will probably receive invitations from numerous different people offering whale watching tours. Beware, however, since not all those claiming to be "experts" actually have the experience or the means to give you a truly enjoyable trip. By wheeling and dealing, some have been known to pay as little as US$40 per person, but you can be sure that companies willing to accept such a low rate will not come close to offering an experience like the ones the more professional companies can offer for just a little bit more money.
Most tours range in price from US$50- US$80, depending on what is included in the trip.
"Whale Watching with Kim Bedall", for example, offers a 55-foot defender, with bathrooms on board and a very knowledgeable staff. The excursion includes soft drinks and water, and the trip lasts from 3-4 hours, depending on sightings. The cost? Only US$50 per person. Keep in mind that this price does not include the US$3 sanctuary entry fee or the US$3 United States Ministry of Environment fee.
"Tour Samaná with Terry" offers a catamaran whale tour lasting about 2 hours, depending on sightings, and also includes lunch, soft drinks, water, and beer on the beach island of Cayo Levantado for US$80 per person. This price does include the sanctuary and Ministry of Environment fees.
There are many other tour companies that offer everything in-between and prices to match. So be sure to explore your options to be able to choose the excursion that fits you best. Most tours offer price reductions for groups, and children are usually half price.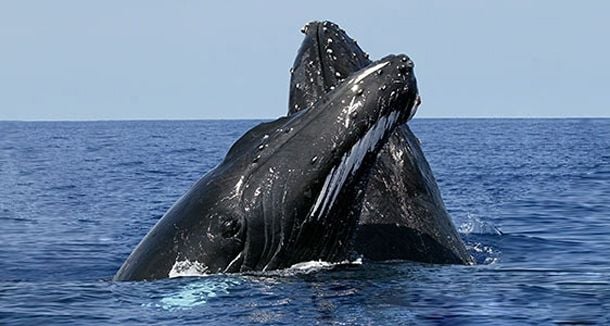 Whale watching is definitely an unforgettable joy for nature lovers young and old, and Samaná has been praised as one of the best places in the Caribbean to enjoy it. If you have the opportunity to experience a moment with these amazing creatures of the deep, you can be sure that you won't regret it!