The Best Beaches in the Dominican Republic 
Mini Break
After a day at the beach you can enjoy the hot rhythms and smooth dance moves of local night life.
Main picture: Punta Cana 
Each year, thousands of tourist from around the world flock to the Dominican Republic to take in its warm sunny beaches. But many visitors end up going to just one or two beaches on their trip – usually whichever one is closest to their hotel. But on an island with so much to offer, you shouldn't miss out on the different activities and experiences that you can have.
Saona Island, a delightful private getaway
Saona Island is a charming beach with picturesque landscapes. It is located off the southern coast of the Dominican Republic. You can reach the island either by motor boat or by booking a day trip excursions offered by one of the local resorts in La Romana. 
An exciting part of the trip to Saona Island is that en route you can visit a natural pool inhabited by starfish of all sizes. The combination of the shallow depth and crystalline waters make this is a great opportunity to observe these amazing creatures up close and personal in their natural habitat. If you bring your snorkel, you can get an even better look!
When you finally reach the island you will savor a truly relaxing experience. Because access to the island is limited, there are very few souvenir merchants, thus ensuring peaceful sunbathing. But if you are looking for a memento, there is a strip of quaint shops painted in bright pastels along the shore, mimicking the traditional countryside homes.
Playa Rincon, untamed natural beauty
The Spanish word "Rincon" literally means "corner" or "nook", and that is exactly what you will find in this undeveloped cove. A myriad of palms line this exquisite bay, and the beach is flanked on either side by lush towering mountains that create breathtaking views and amazing photo opportunities. It's not rare to spot dolphins dancing in the warm waters and there is even the occasional manatee.
Made famous when it was featured the reality show Survivor, Playa Rincon has been protected by the locals who have worked hard to preserve its wild magnificence, fighting the encroachment of hotels and other tourist attractions.
Playa Rincon is on the Samaná peninsula, which is on the northern coast of the island. This beach boasts gorgeous tropical climate all year round and is a favorite camping spot for those who like to be lulled to sleep by the sound of crashing ocean waves. Because it is far away from any big city, star gazers can contemplate a dark velvet sky illuminated by all the major constellations.
You can reach Playa Rincon on the newly paved roads by public transportation or by taking advantage of nearby resorts that offer daytrips there by catamarans, motor boats or four-wheelers. The beach has 2 small restaurants that offer fresh local cuisine.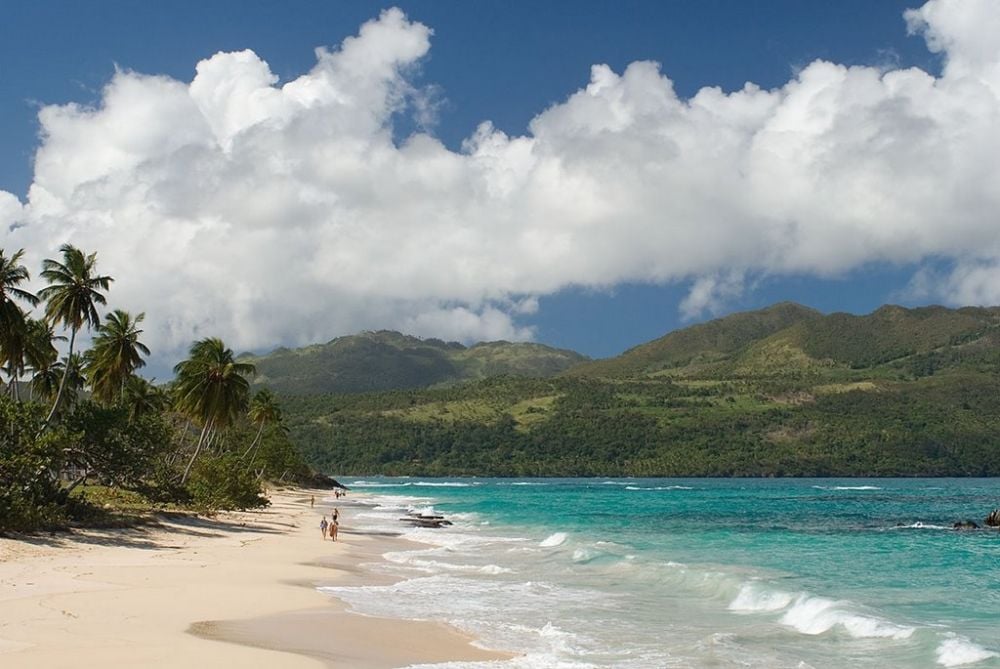 Cabarete, Puerto Plata; for an unforgettable water adventure
Not everybody comes to the Caribbean to veg out on a lounge chair. If you are an adventurous watersport lover, Cabarete is the beach for you. Its steady waves and windy climate make it the perfect place for surfing, wind surfing, and boogie boarding. This beach also offers other less-common action sports such as Stand Up Paddle Boarding. For those who like to put their fitness to the test, Cabarete even hosts professional kitesurfing competitions.
After an active day on the beach you can experience the hot rhythms and smooth dance moves of the local night life. There is a variety of nightclubs where you will find a good mix Caribbean drinks and Latin beats. You can also find plenty of bungalow-style lodgings for parties of anywhere from 4-10 people, making Cabarete a great destination for a group vacation.
Cayo Levantado; the cradle of the humpback whale
The best time to visit this amazing tropical utopia is from January to March. During this season you can have an up-close encounter with the majestic humpback whale. The sparkling translucent waters allow you to witness the whales complete their annual ritual of mating and calving in this special Caribbean spot. In the calm night air, you can often hear the inspirational songs of these placid giants as they sing in the shallow waters just offshore.
Cayo Levantado is also known for its elegant luxury hotel with five star accommodations. Parasailing and kayaking are a wonderful way to explore the stunning coastline vistas, but the hotel also has a tranquil spa, exquisite pools and a state of the art fitness center for those who don't want to spend all their vacation time on the beach.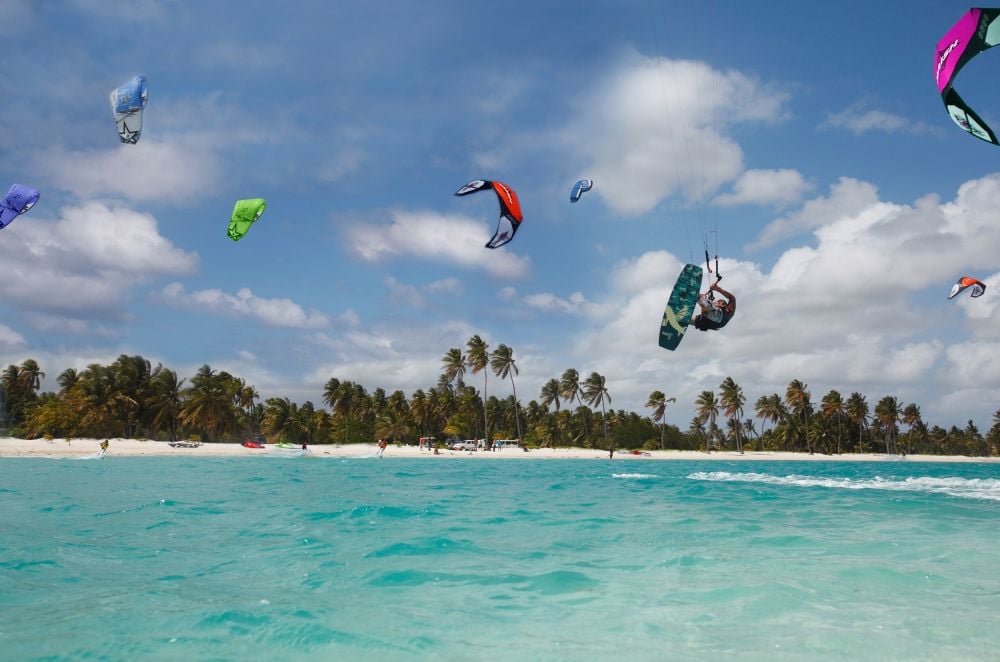 Bávaro at Punta Cana; Beachside Elegance and Sophistication
This well-developed area boasts some of the most high quality hotels on the island. Several all-inclusive resorts line the beautiful eastern shoreline. Hotel staff services the perfectly manicured beaches and anticipate your every desire by providing a wide array of luxury amenities. Pools, bars and snack stations are conveniently spread throughout the grounds. An amazing selection of restaurants offering international cuisine is available for guests to choose from.
Many choose to have special events, such as seminars, company retreats and even destination weddings at the elegant beachside conference centers in Bávaro.

Playa Juanillo at Cap Cana; The Jewel of the Caribbean
Playa Juanillo is located on one of the longest stretches (35 km) of pristine beaches in the Dominican Republic, Punta Cana. Three point four miles of powder white sand and intense blue waters make this beach a treasure everyone is pleased to discover. If you like to get in touch with nature you can go on 15 km hike along the Great Ecological Trail. Playa Juanillo is also a popular hotspot for music lovers. It hosts many famous musicians at the Juanillo Beach Music Fest.
Cap Cana resort on Playa Juanillo is located just 7 minutes away from the Punta Cana Airport. The resort has yachting facilities, a full service spa, 5 gourmet restaurants and 2 world renowned golf courses. Scape Park, the resort's truly unique adventure park, offers zip-lines, pedal boats, fishing excursions, eco-tours, and adventure buggies.
No matter what kind of vacation you are looking for: relaxing on the beach, exploring wildlife, or putting your surfing challenges to the test, the Dominican Republic has the beach for you! Come see it on your next vacation.